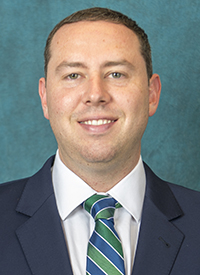 Michael Fly, who has spent the previous seven years as an assistant coach on the Eagles' staff, has been selected as the head coach of the FGCU men's basketball program, Director of Athletics Ken Kavanagh announced on Apr. 5, 2018.
Fly has been a part of more than 150 wins the past seven years, six ASUN Tournament Final appearances, three NCAA Tournament victories, three ASUN Tournament titles and three ASUN Regular Season Championships, two berths in the NIT, a CIT appearance and a run to the Sweet Sixteen which captivated the nation and put the Southwest Florida campus on the national radar for good.
The only remaining member from that 2013 Sweet Sixteen squad, Fly has been an integral and loyal member of two staffs which have changed the men's basketball culture in every facet, resulting in team accomplishments and player developments to coincide with the Dunk City mantra.
A 2006 University of Kentucky alumnus, Fly will become the program's fourth all-time head coach (since 2002; Division-I in 2007), joining Dave Balza (2002-11), Andy Enfield (2011-13) and Joe Dooley (2013-18), who on Wednesday accepted the same position at East Carolina University.
Fly, who will turn 35 on May 29, has coached a dozen all-conference selections while with the Green and Blue, including two ASUN Player of the Year honors in Sherwood Brown and Brandon Goodwin, and two ASUN Defensive Player of the Year selections in Bernard Thompson and Demetris Morant.
More recently, Fly is responsible for recruiting Zach Johnson, Brandon Goodwin and Christian Terrell. Johnson is on pace to break the FGCU all-time scoring record as the current redshirt junior has 1,344 career points. Goodwin holds the top-two single-season scoring campaigns in program history in his only two years with the Eagles. Terrell is set to graduate next month as the only player in program history with at least 1,300 points, 500 rebounds and 250 assists.
Of the top-10 players in career points at FGCU, Fly has helped develop eight of them, including all-time leading scorer Thompson (1,835). Additionally, the Fulton, Ky., native has coached both the ASUN all-time assists leader Brett Comer (845; 24th in NCAA history) and FGCU all-time leading rebounder Chase Fieler (714).
Looking ahead to the 2018-19 season, Fly has recruited four of the five incoming student-athletes: Troy Baxter Jr. (UNLV transfer; Tallahassee native), Haanif Cheatham (Marquette transfer; Fort Lauderdale native), Caleb Catto (Southwest Florida Christian HS) and Zach Scott (Fort Lauderdale's Westminister Academy).
Fly came to FGCU from Florida State where he was the video coordinator for three Seminoles' NCAA Tournament teams (2008-11) and worked with future NBA players Okaro White, Toney Douglas, Solomon Alabi, Ryan Reid, Chris Singleton and Bernard James. Fly also served as the assistant director of Leonard Hamilton Basketball Camps during his time in Tallahassee.
This past year, the Eagles earned an automatic NIT berth with their second-straight outright ASUN Regular Season Championship, and became the only school in the history of the ASUN (since 1978-79) to post six-straight 20-win seasons. From Dec. 29-Feb. 14, FGCU won 13-straight games – the longest in D-I program history, besting a 10-game run in 2014-15.
FGCU set single-season all-time program records for points (2,847; previous: 2,703 in 2015-16), 3-pointers made (254; previous: 251 in 2011-12), free-throw percentage (.740; previous: .714 in 2003-04) and field goals made (1,045; previous: 1,008 in 2015-16), while establishing D-I single-season marks for assists (535; previous: 527 in 2016-17) and free throws made (503; previous: 501 in 2015-16).
In 2016-17, FGCU posted a 26-8 record, matching the program's D-I single-season wins record and securing the first single-digit loss campaign in the D-I era. The Eagles played their sixth NCAA Tournament game in five seasons after receiving a program-best No. 14 seed and fell just short to No. 3 seed Florida State – the second-tallest team in the nation in 2016-17 – 86-80.
Fly helped lead FGCU to an ASUN Tournament title in 2015-16, advancing to claim its third NCAA Tournament win in four years with a 96-65 victory over fellow No. 16 seed Fairleigh Dickinson in the First Four – with the 31-point margin of victory in that round of the tournament being the largest in NCAA history.
In 2014-15, FGCU (22-11, 11-3 ASUN) finished with the second-most wins of any D-I team in Florida (North Florida, 23), and a 10-game winning streak during conference action which at the time was the longest in D-I program history.
In 2011-12 under then-head coach Enfield, the Eagles advanced to the ASUN Tournament Final in the program's first year of postseason eligibility, falling just 20 minutes short of the NCAA Tournament and finishing with 15 wins.